Brazil beat Russia on this Thursday and now wait for the opponent of the semifinal, the will came out of USA , China and the Netherlands key.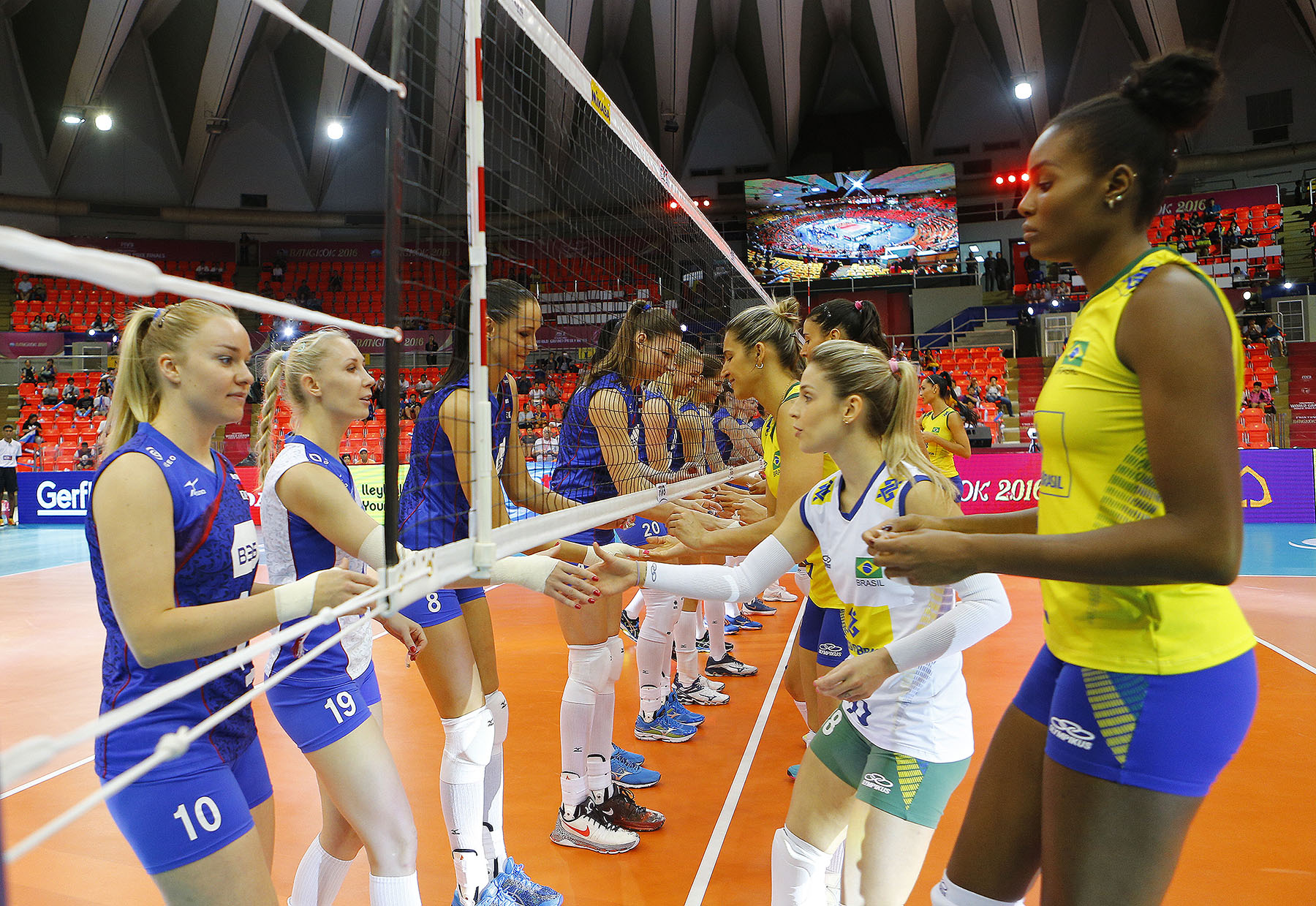 Synonymous of 5 sets, Brazil and Russia are perhaps the greatest rivalry in world volleyball and on the morning of Thursday, another chapter of this story was written.
Russia had lost only one game in the group stage of the Grand Prix and made his debut in the final stage of the competition. Brazil, which lost two matches in the initial phase, was victory in the opener of the finals against the hostesses, Thailand.
Russia team came to court without Kosheleva, but had Malykh, second highest scorer of the Russian Superleague as a substitute. Malova and Scherban had a responsibility to cover the Russian line of pass, since Malykh is not an expert in the function.
The Brazil knew that with a good pass it would be difficult to stop the heavy Russian attack, Brazilian served very well and took advantage of the opening of the Russian passing line to score 7 points of serve in the match. On the Brazilian side the pass worked well, Léia, Fe Garay and Natalia held the fundament and gave tranquility to Dani Lins choose the best offensive options.
The first set was balanced, but with the Brazil commanding the scoreboard most of the time. With an attack of Fe Garay, Brazilian closed the set at 25 x 21.
In the second partial, everything worked for Brazil, serve, block, defense, passing and attack, it was a Brazilian tour. In a block action from Fabi Brazil ended the set at 25 x 10. In the third set Brazil seemed to repeat the performance of the previous one, but still saw Russia recover before closing the set in 25 x 21 and the game in 3 sets to 0.
Brazil scored with: Sheila (14) Thaísa (13) Natalia (12) Fe Garay (10) Fabiana (8), Dani Lins (3) and Jaqueline (1).
Russia scored with: Goncharova (12) Scherban (9), Zaryazhko (6), Malygina (4), Fetisova (4), Shyakhovaya (3), Ilchenko (2) and Malykh (1).
In the other group, the Netherlands beat China for 3 x 2 and if the United States beat China tomorrow, have guaranteed their passage to the last four.
Back